Rimtec's Barrier Clutch enables maintenance free quick connections for
flexible manufacturing by transmitting torque and speed with no contact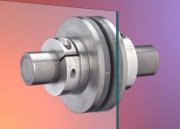 Rimtec's newly developed permanent magnet synchronous clutch MDC series is used to transmit torque from a motor to a flexible fixture used to automate machining of parts for the automotive industry. Several independent fixtures can index their way over to a single motor with a non-contact magnetic coupling. The motor actuates the fixture's clamping motion, providing an adequate clamp force for machining. The fixtures then index their way into the respective machining environment. While a part is in the machining center, more parts are being indexed over to the drive motor for clamping.
The MDC series is available from 2-30Nm (18-265 in/lbs.) and can be specifically balanced for high speed. The barrier in between the 2 halves is a non-magnetic material thus enabling one half to be completely enclosed for hazardous, food grade, or chemical environments.
For larger sizes, the MSV style is available upwards of 1,000 Nm (8,850 in/lbs)