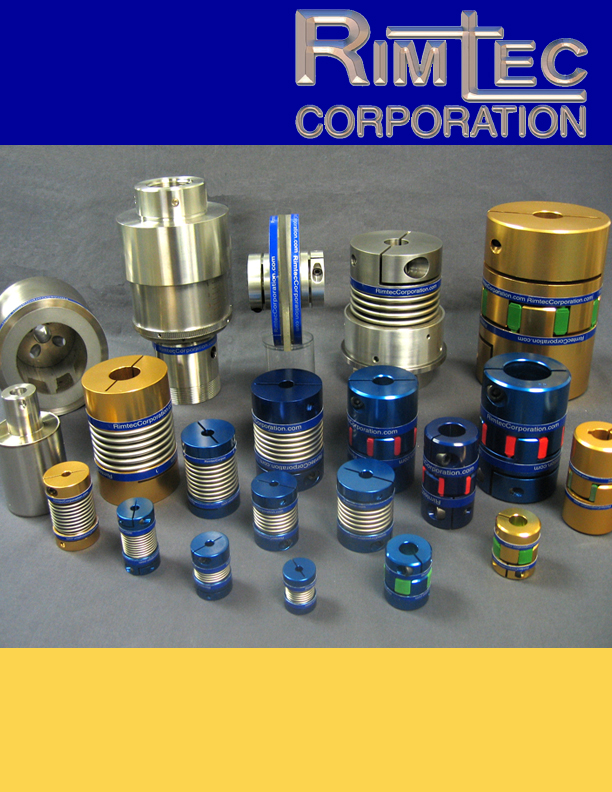 Rimtec Corporation offers the most technically advanced, backlash-free couplings, magnetic clutches and keyless clamps in a product lineup that continually adapts to advanced manufacturing. Also, we are pleased to customize our products to meet your unique requirements.

We aim to be your complete source for information, technical assistance, and coupling and clamp products. Toward that goal, we provide the following benefits:



| | |
| --- | --- |
| | All products are ISO 9001 certified for precision motion control. |
| | Rimtec's entire line is available in corrosion-proof stainless steel. |
| | All product dimensions, technical ratings and mounting instructions are available online for immediate download. |
| | A complete sizing program is available for download (1,041KB), or use our online selection guide to find the product most suited to your application. |
| | Technical questions submitted via our application assistance/inquiry form will be answered within 24 business hours. |
Rimtec's Product Offerings

Magnetic Clutches & Couplings
Transmit torque and speed with misalignment, and without contact or through a non-magnetic "barrier" maintenance free.


Hysteresis – designed as two parts that nestle together, but without physical contact. Check out its many advantages! Ideal for tension control and bottle capping machines.
Synchronous – torque transmission to replace mechanical seals, quick connect/disconnect, allow misalignment, hermetically sealed inner and overload protection.

Servo Insert Couplings
Available with three different damping inserts, these couplings compensate for misalignment caused by the high load inertias or very fast accelerations of today's high-performance digital and analog servo and vector drives.

Metal Bellows Couplings
Unique taper lock design avoids the misalignment problems that are common with traditional taper lock clamps.

Miniature Couplings
Small, lightweight stainless steel couplings provide servo-quality stiffness, low inertia and an exceptionally long equipment life on today's high-speed, automated manufacturing equipment. Available in both metal bellows and servo-insert styles.



To find the product that fits your unique application, use our online selection guide, or select your product of interest from the pull-down menu above. As always, if you need technical assistance, please feel free to contact us.


About Rimtec | Press Release | Products | Selection Guide
Ordering | Shows | Contact Us | Terms and Conditions | Home
---
Copyright © 1999-2004 Rimtec Corporation, 211 S. Lombard Road, Addison, IL 60101
Toll Free: 877-4RIMTEC (877-474-6832) ~ Phone: 630-628-0036
Fax: 630-628-0041 ~ Email: help@RimtecCorporation.com
Comments, questions or problems with our website? Please contact our webmaster.